Seattle's Favorite Shopping Districts...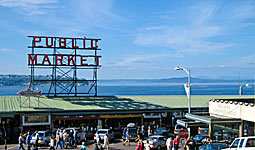 Pike Place Market
Pike Place Market is a public market overlooking the Elliott Bay waterfront. The Market, which opened August 17, 1907, is one of the oldest continually-operated public farmer's markets in the country.It is a place of business for many small farmers, craftspeople and merchants. It is also Seattle's most popular tourist destination. Located in Downtown, it occupies over 9 acres (36,000 m²). The Market is bounded by First Avenue to the east, Western Avenue to the west, Virginia Street to the north, and, to the south, a line drawn from First to Western Avenues halfway between Pike Street and Union Street. It is named after its central street, Pike Place, which runs northwest from Pike Street to Virginia Street.
Pioneer Square
Pioneer Square features one of Seattle's largest independent retail districts. Charming owner-operated stores populate the neighborhood.
There are over thirty restaurants and nightclubs, thirty-six art galleries and antique shops and forty other shops and services.
Downtown District
Seattle's downtown shopping district is a compact square of several blocks with brand names like Urban Outfitters, Gap and Nordstorm.
Fashion boutiques like Betsy Johnson and Isadora's Antique Clothing dot the urban landscape and offer Seattle shoppers more eclectic options.
Westlake Center Plaza, a nearby mall, features local and international home designers as well as a top floor food consortium.
If the Seattle rain catches you, shoppers can duck into Pacific Place.