About the Sausalito Shopping District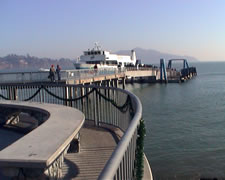 Located right alongside the Bay, Sausalito is a picturesque as it gets. Take the ferry from San Francisco and really reap the most pleasure from your shopping visit. Find ferry schedules.
While taking in the beautiful scenery and lounging at the outdoor cafés, you will also find some of the most unique shopping around the world. Up and down Bridgeway and along the other connecting streets you will find all varieties of fine and costume jewelry, sculptured glass art pieces, exquisite clothing for men women and children and that most special gift.