San Francisco Bay Area Lodging We Recommend...
Many of the following accomodations have incredible personality
and special amenities - find just the one that will suite you!
Hotels Listed Alphabetically..
---

Abigail Hotel
246 McAllister St. (btw Hyde/Larkin), San Francisco
415-861-9728
The comfy Abigail Hotel , a modest hotel near the Opera House and Civic Center , draws a young international crowd that prefers down comforters to backpacks and appreciates the superb on-site vegetarian restaurant (Millennium). The rooms are a bit small, which makes the atmosphere even more European and the "antique" furniture is old but not precious. -Frommers Irreverent Guide to San Francisco
---

Andrews
Hotel
624 Post St. (btw Taylor/Jones), San Francisco
415-563-6877
This small, family-owned Victorian is rich in history, going back to its incarnation as the Sultan Turkish baths, a turn-of-the-century men's club. Owner Henry Andrews oversees every small detail, from the fluffy down comforters and fresh flowers in each guest room to the gourmet continental breakfast set up on each floor every morning. Insider tip: Ask for a "sunny bah king" room -- they have the lovely bay windows and are larger than standard rooms but they cost only two or three dollars more. -Frommers Irreverent Guide to San Francisco
---
---
Archbishop's Mansion
1000 Fulton St. , San Francisco
415-563-7872
Across the street from the picture postcard Victorians is the Archbishop's Mansion, built in 1904 and now a bed-and-breakfast inn. The huge rooms and ornate decor almost make you dizzy, but "Texans love it," says the owner. "It makes them feel like they're in their own castle for a few nights." Most of the rooms have massive canopy beds, working fireplaces, and deep, old-fashioned bathtubs and all guests are served breakfast in bed. -Frommers Irreverent Guide to San Francisco
Town and Country said a night at the Archbishop's Mansion is "like a night in a well-written romance novel," which is ideal if you like romance novels. It's probably the only hotel in the city where you'll find a huge bathroom with a working fireplace and claw-footed bathtub right in the middle of the room, smelling of perfume and just waiting for a candlelit soak for two. (Do you hear tat mood music yet?) The next morning you can keep the spark alive as long as nature allows -- the mansion staff will serve you both, breakfast in bed. -Frommers Irreverent Guide to San Francisco
---
Bed and Breakfast Inn
4 Charlton Court , San Francisco
415-921-9784
San Francisco 's first bed-and-breakfast maintains the convincing illusion that it's a charming old English inn in a picturesque mews somewhere in Cornwall . The main difference, of course, is that you're not surrounded by verdant countryside dotted with horses and sheep munching on grassy meadows and wildflowers. Instead, this B&B tucked into a cul-de-sac is just steps away from popular boutiques, bars and restaurants lining Union Street , one of the city's most popular shopping areas. The three adjoining green Victorian buildings -- graced with twining ivy, window boxes bursting with bright red geraniums and a birdhouse bobbing from a tree out front -- offer 13 enchanting guest rooms, each individually decorated with family antiques, floral prints and appealing personal touches (ask for a room that opens directly onto the alluring back garden). The least expensive rooms have shared baths. Of the two sunny penthouses, the Mayfair offers a living room, kitchen, latticed balcony and spiral staircase leading to a bedroom loft with a king-size bed; the Garden Suite, popular with groups of four, has a king-size bed in the master bedroom, a double bed in the loft, a fully stocked kitchen, a living room with a fireplace, two bathrooms (one with a Jacuzzi tub), and French doors leading to a private atrium and garden. You may enjoy your simple continental breakfast in your room, the garden, or the diminutive English tearoom. -Frommers Irreverent Guide to San Francisco
---
Bock's Bed and Breakfast
1448 Willard Street , San Francisco
415-664-1109
Recommended Lesbian lodging. -Frommers Irreverent Guide to San Francisco
---
Central YMCA
220 Golden Gate Avenue , San Francisco
415-885-0460
If your budget is tighter than Dwight Yoakam's jeans, you'll be happy to know that for $30 to $45 a night, you can stay in private single room at the fully staffed Central YMCA, where you will get free continental breakfast in the morning along with the use of the health club and pool. -Frommers Irreverent Guide to San Francisco
---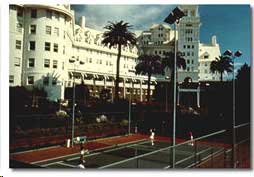 Claremont Resort Hotel, Spa & Tennis Club
41 Tunnel Road , Berkeley
510-843-3000
https://www.claremontresort.com
If you've got that truly, madly, deeply kind of thing going on, and you're willing to prove it with some serious money, take your amour across the bay to the lush, 22-acre Claremont Resort Hotel, Spa & Tennis Club and book a telescope suite, where San Francisco's lights will twinkle just for you all night long. It's one of the best views of San Francisco you will ever find. The picture window is as big as a movie screen and is fitted with a wide wraparound window seat custom-made for those spontaneous harmonic convergences. -Frommers Irreverent Guide to San Francisco
---
Clift Hotel
495 Geary Street, San Francisco
415-775-4700
The Clift Hotel (formerly the Four Seasons Clift) is just about flawless -- a sophisticated, elegant retreat for aristocrats and other travelers with plenty of credit. The large, high-ceilinged rooms have been meticulously restored to their prime 1915 state, with all the modern luxuries added for dessert. The topper is the wonderful Redwood Room, a lusciously romantic art-deco piano bar.
At The Clift Hotel, children are supplied, free of charge, with everything from toys and Nintendo to milk and cookies and smaller versions of the luxurious bathrobes Mom and Dad are wearing. parents can be provided with a babysitter and, if by chance they left the baby bag at home, every item imaginable (bottles, diapers, clothes, etc.) needed for an infant. -Frommers Irreverent Guide to San Francisco
---
Donatello Hotel
501 Post Street , San Francisco
415-441-7100
For the elegance of a grand luxe hotel at as little as half the price, try the Donatello Hotel in Union Square . The lavish French-inspired Donatello is worth a visit just to see the massive stained-glass dome above the valet parking area in front of the hotel. Inside the rooms are all oversized with tall ceilings and huge window; many of the successful young corporate types who frequent the Donatello shell out an extra $100 for rooms that open onto private landscaped terraces. -Frommers Irreverent Guide to San Francisco
---
El Drisco Hotel
2901 Pacific Avenue , San Francisco
415-346-2880
The 43-room El Drisco Hotel makes you feel as though you're staying at the pied-à-terre of a friend --a very rich friend with fabulous taste and the thickest towels in town. If you can afford ($325), stay in the city/bay suite on the fourth floor, where huge bay windows on both sides of the suite provide views of the Golden Gate and Bay bridges as well as a sweeping panorama of the city itself. Bonus: If you want to go into town to work, shop or take in the nightlife, there's free round-trip limousine service. -Frommers Irreverent Guide to San Francisco
---
Fairmont Hotel
950 Mason Street (at California ), San Francisco
415-772-5000
The Fairmont Hotel is synonymous with elegant San Francisco . It sits on top of Nob Hill as though it alone were holding court over San Francisco (never mind that the Mark Hopkins is virtually across the street). The lobby is fancy, fancy, fancy and the velvet furniture is red, red, red matching the bellhop's uniforms. The overall effect is about a half-degree shy of gaudy, but its history keeps it within the Grande dame category. -Frommers Irreverent Guide to San Francisco
The Fairmont Hotel played center stage in the movie Bullit, Steve McQueen's classic suspense thriller that has one of the all-time best movie chase scenes. -Frommers Irreverent Guide to San Francisco
---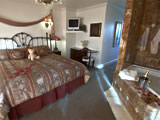 Fitzgerald Hotel
620 Post Street
San Francisco, CA 94108

(415) 775-8100
(800) 334-6835
https://www.fitzgeraldhotel.com
The Best of San Francisco Guide sums up the Fitzgerald Hotel as "classic, traditional European accommodations in its design and services. Pristine care, lots of sunlight, comfortable appointments and a courteous, professional staff are immediately obvious when you walk through the door, and reminded me of a pleasant small hotel I once stayed at in Dublin." The hotel is only two blocks from San Francisco's theater district, six blocks to China Town, and a two block walk to Union Square shops.
The hotel itself was established in 1910, and renovated in 2003, and is full of beautiful furnishings and has a luxurious and intimate Victorian interior. It is known for its close access to Union Square shopping, San Francisco's best art galleries, and area restaurants. To reserve a room at the Fitzgerald Hotel, call 800-334-6835.
---
Hayes Valley Inn
San Francisco
415-861-9849
The owners pride themselves on catering to alternative lifestyles and making gay travelers feel at ease. Special rooms are provided for guests traveling with pets. All rooms have shared baths in the hall. -Unofficial Guide to San Francisco
---
Hotel Bijoux
111 Mason Street , San Francisco
415-771-1200
For aspiring actors and film buffs, a small movie theater and a 24 hour hotline to current San Francisco film shoots and casting-call opportunities. -Unofficial Guide to San Francisco
Many San Francisco hotels have been featured in movies, but only one was designed as a shrine to them. In the heart of the theater district, Hotel Bijoux looks like a sumptuous movie palace from the 1930's, with Hollywood portraits on the walls and each guest room based on the theme of a movie that was shot in the Bay Area. (Those 65 movies are all available for check-out from the hotel's video library). Best of all, there is an ornate mini-theater that plays daily shows of San Francisco movies. -Frommers Irreverent Guide to San Francisco
---
Hotel Boheme
444 Columbus Avenue (btw Green/Vallejo), San Francisco
415-433-9111
Before his death in 1996, legendary poet, Allen Ginsberg chose North Beach 's Hotel Boheme, a hip, cozy and surprisingly quiet haven on Columbus Avenue , just steps away from Lawrence Ferlinghetti's City Lights Bookstore. -Frommers Irreverent Guide to San Francisco
---
Hotel Diva
440 Geary Street, San Francisco
415-885-0200
https://www.personalityhotels.com
Modern Interior Decorating - Black and primary colors accent the theme of brushed chrome. -Unofficial Guide to San Francisco
The Diva emerged from a recent facelift with a sophisticated, streamlined deco design that's proving popular with hip New York and LA types for its showbiz flair. In the lobby cool blues, cold steel and curvaceous lines evoke ocean swells. It's calmer upstairs, where spacious rooms are fitted with Le Corbusier chairs, sconce lighting and a wealth of electronic accessories. True to its name, the Diva is ideally located for theater-goers: It's literally across the street from the Geary and Curran, and within walking distance to numerous other playhouses. Continental breakfast, included, is delivered to your door each morning. -Frommers Irreverent Guide to San Francisco
---
Hotel Griffon
155 Steuart Street , San Francisco
415-495-2100
This is one of our favorite small luxury hotels, a 62-room sleeper that does a brisk repeat-customer business. It's in an ideal location, on the south end of the Embraceor at the foot of San Francisco 's historic waterfront. The guest rooms are beautifully decorated with whitewashed brick walls, contemporary cherry-wood furnishings, marble vanities, high ceilings, window seats and art-deco-style lamps. You have to pay extra for the beautiful Bay Bridge view, but it's definitely worth it (believe it or not, it used to be a view of a freeway overpass). And for a small hotel, the Griffon offers a lot of big-hotel amenities, including room service, secretarial services, concierge, in-room massage, free access to a nearby health center and complimentary town car service to the Financial District. The new adjacent restaurant, Red Herring is receiving favorable reviews as well. -Best Places San Francisco
---
Hotel Juliana
590 Bush Street , San Francisco
415-392-2540
The small Hotel Juliana, near Nob Hill, is a cozy, secure-feeling three-star hotel that is particularly popular with women traveling alone. It is also a secrete hideaway for celebrities--at least, it was a secret until it was featured on Lifestyles of the Rich and Famous. You never know who you might meet at the free wine reception each afternoon. -Frommers Irreverent Guide to San Francisco
---
Hotel Metropolis
25 Mason St. (at Turk), San Francisco
415-775-4600
https://www.hotelmetropolis.com
The Hotel Metropolis is just a block from the Powell Street cable car line and if that gets boring, the hotel's "rooms just for kids" are perfect for goofing off, with bunk beds, scaled-down furniture, and -the best part-Nintendo. -Frommers Irreverent Guide to San Francisco
---
Hotel Monaco
501 Geary Street, San Francisco
415-292-0100
Modern Interior Decoration - Lush textures such as velvet and deep colors including eggplant and ruby to create a look of futuristic affluence. -Unofficial Guide to San Francisco
The guests at the Monaco are less buttoned down than at the Donatello, but they definitely have a few dollars to throw around. Inside this majestic Beaux Arts landmark, the interior is more sensual than stately - perfect for the theatre crowd. A huge staircase sweeps from the lobby to the living room, and the grand chimney piece in the "pre-function" room rises to a mural of floating hot air balloons that recall the Wizard of Oz.
Hotel Monaco offers a "Bone A Petit" package that includes, among other things, Evian water and a liver biscotti at turndown. -Frommers Irreverent Guide to San Francisco
---
Hotel Nikko
222 Mason (at O'Farrell), San Francisco
415-394-1111
A deep bow to post-contemporary corporate life, Hotel Nikko is the choice of visiting celebs, globobosses and entertainment-industry arrivistes. The huge hotel happily flaunts its wealth of space which is, of course, downtown San Francisco 's most precious commodity. The enormous clean lined, white marble lobby is built with particular attention to the senses that's just oh so Japanese. High-sped Mitsubishi elevators whisk guests to chic-simple rooms with emperor-sized beds and fantastic floor-to-ceiling windows that offer decadent views from the top floors. Bathrooms are particularly large and contain separate showers and baths. two $1,500+ per night Japanese Suites are some of the finest accommodations we've seen anywhere. Each unites a Western-style living room with a traditional tatami room, in which silk covered futons are unrolled each night. There's a space for performing the tea ceremony, and a small rock garden overlooking all of San Francisco . All guests are welcome to use the hotel's rooftop lap pool and fitness center, a glass-covered extravagance that has become one of the greatest places for a swim in the city. -Avant Guide San Francisco
---
Hotel Palomar
12 Fourth Street , San Francisco
415-348-1111
A little less eccentric (than the Hotel Phoenix for stargazing), but equally as popular is the new Hotel Palomar just footsteps away from the Museum of Modern Art . -Frommers Irreverent Guide to San Francisco
---
Hotel Rex
562 Sutter Street (btw Powell/Mason), San Francisco
415-433-4434
For writers in search of a muse - New York has the Algonquin, San Francisco has Union Square 's Hotel Rex. Hang around the lobby or browse in the antiquarian bookstore and you're likely to rub shoulders with celebrated writers and artists gathered for roundtables, book signings, readings, or just socializing. Playwright Wallace Shawn is among the many regular guests here. The walls of the lobby and guest rooms are a gallery of local artists' work, which owner Chip Conley bought to infuse cash into the art community after the 1989 quake. Be sure to look at the ceramic lamps: Each one was individually thrown by a local potter and each shade is hand painted. -Frommers Irreverent Guide to San Francisco
---
Hotel Triton
342 Grant Avenue (at Bush), San Francisco
415-394-0500
https://www.hoteltriton-sf.com
24 Environmentally sensitive guest rooms and suites designed by Jerry Garcia and nature artist Wyland. -Unofficial Guide to San Francisco
---
Huntington Hotel
1075 California Street , San Francisco
415-474-4400
https://www.huntingtonhotel.com
Meanwhile, as long as you're spending some money, consider the Huntington Hotel on Nob Hill, where Eugene O'Neill and his wife moved from the Fairmont after they left Tao House in Danville , some 30 miles away in the country. Today the hotel is still a discreet lodging for the "old money" crowd that wants to be left alone, as far as possible from anything resembling flash or celebrity. -Frommers Irreverent Guide to San Francisco
---
Inn
at the Opera
333 Fulton St. (btw Franklin/Gough , San Francisco
415-863-8400
https://innattheopera.citysearch.com/1.html
Opera fans favorite. -Unofficial Guide to San Francisco
Victorian where services include a complimentary clothes-pressing upon arrival, and is a favorite of Luciano Pavoratti. -Frommers Irreverent Guide to San Francisco
Couples have been known to hold intimate wedding dinners in front of the fire at the Ovation restaurant at Inn at the Opera, then walk across the street to pump up the volume with a fervent aria at the Opera House. The Inn at the Opera is the most sumptuous small hotel in the city, and we do mean small -- the entire building is only 25 feet wide, which kind of makes you wonder how Luciano Pavoratti keeps from feeling cramped when he stays there. Still, the sense is one of airy coziness, partially because all of the windows open for real fresh air. -Frommers Irreverent Guide to San Francisco
---
Jackson Court
2198 Jackson St. , San Francisco
415-929-7670
https://www.jacksoncouthotel.com
With just ten guest rooms, Jackson Court is not exactly a hotel, but staying in this historic mansion in Pacific Heights will make you feel like European royalty. -Frommers Irreverent Guide to San Francisco
---
King George Hotel
334 Mason at Geary , San Francisco
415-781-5050
The King George Hotel is located in the heart of Union Square and the Theater District, walking distance to Chinatown, SF Museum of Modern Art, Moscone Convention Center and the Financial District.
Breakfast and afternoon tea are served daily in a traditional English tea Room. Plan your day or or simply relax with a freshly brewed pot of tea and delicious crumpets. Some of the notable amenities are Telephones with voicemail and data ports, in-room safes and Nintendo game systems.
---
Manka's
Inverness
Lodge
P.O. Box 1110 , Inverness
415-669-1034
Head up the coast to Point Reyes National Seashore and check in to Manka's Inverness Lodge, a hunting lodge built in 1927 and later transformed into a romantic inn; the extraordinary restaurant here serves game grilled in the fireplace and local line-caught fish. Try to get one of the private cabins, and whatever you do, don't miss dinner in the restaurant. -Frommers Irreverent Guide to San Francisco
---
Mansions Bed and Breakfast
2220 Sacramento Street , San Francisco
415-929-9444
Magic fans favorite - Magic show dinner theater is included with the price of a room. -Unofficial Guide to San Francisco
---
Mark Hopkins International
1 Nob Hill (at California & Mason, San Francisco
415-392-3434
https://www.markhopkinshotel.com
The Mark Hopkins International is a traditional favorite of San Franciscans who appreciate elegance but don't have much of a stomach for gee gaw. It shares the top of the hill with the Fairmont but is notably less glitzy. -Frommers Irreverent Guide to San Francisco
---
Maxwell
Hotel
386 Geary Street, San Francisco
415-986-2000
Not many people know about the two gorgeous terrace penthouses at the Maxwell Hotel near Union Square . If you ever want to impress your associates or entertain your friends, this is the place to splurge ($495). There is no cheesy, gold-plated anything, no marble floors, no frou-frou at all-- the decor is modern, but luxurious, sort of high-end Pottery Barn. The view is to die for. Room service is from Gracie's , the hotel's stylish American brasserie. -Frommers Irreverent Guide to San Francisco
---
Mill Valley Inn
165 Throckmorton Avenue , Mill Valley
415-389-6608
Mill Valley was the setting for the '70s satire Serial, starring Martin Mull, Sally Kellerman and a flotilla of hot tubs - luckily, most of the Marin County stereotypes that inspired this book and the 1980's movie have gone to spawn elsewhere. Get a balcony room at the Mill Valley Inn and mingle with the locals - half of them are screenwriters and you know how they love to talk. -Frommers Irreverent Guide to San Francisco
---
Miyako Hotel
1625 Geary Street, San Francisco
415-922-3200
Japantown has one of the most authentic Japanese hotels in the City, the Miyako, with Zen gardens, futon beds and in-room Shiatsu massage.
A bit farther from the Financial District, in Japantown, the Miyako Hotel caters to a clientele of lots of Japanese business travelers, with fax machines and voice mail in the rooms, as well as translation services. -Frommers Irreverent Guide to San Francisco
---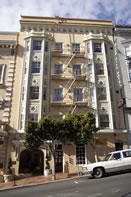 Nob Hill Hotel
835 Hyde St., (between Bush/Sutter), San Francisco
415-662-4455
https://www.nobhillhotel.com
Frommer's Review describes the Nob Hill Hotel as the best San Francisco hotel for a romantic rendezvous, and the hotel is truly one-of-a-kind. Furnished with antiques, hand-painted murals, stained glass, marble baths, and period pieces, each room is individual and unlike any others. Established in 1901, and recently restored, it feels more like a European villa than an urban hotel. Located in the heart of Nob Hill at 835 Hyde St., it offers close access to the Nob Hill and Union Square areas. Overall, it is a spectacular San Francisco experience.
All rooms at the Nob Hill Hotel have modem hookups, coffee makers, and many other amenities, and most rooms have microwaves and mini-refrigerators. Two suites have Jacuzzi tubs, stereo, and an English garden. Rates include free evening wine tasting, morning Continental breakfast, and fitness passes. To reserve a room at the Nob Hill Hotel, call 877-662-4455.
---
Nob Hill Lambourne
725 Pine Street , San Francisco
415-433-2287
https://www.nobhilllambourne.com
State-of-the-art in room treadmill and an honor bar with healthy foods for quite reasonable rates. -Unofficial Guide to San Francisco
The Nob Hill Lambourne is a model hotel for health-conscious business execs. Not only does the Lambourne feature a full-service spa on the premises, every room has its own exercise equipment as well as personal computer, fax set-up and compact stereo unit, all of which special treatment costs the same or less than a nondescript room at some of the major hotels in the area. -Frommers Irreverent Guide to San Francisco
---
Pension
San Francisco
1668 Market Street , San Francisco
415-864-1271
Converted Victorian - gay-oriented lodging. -Frommers Irreverent Guide to San Francisco
---
Phoenix Hotel
601 Eddy Street (btw Larkin/Polk), San Francisco
415-776-1380
A favorite of Rock and Rollers, both professionals and fans. -Unofficial Guide to San Francisco
The Phoenix is the exact opposite of the San Remo . It is New World all the way, as American as Velveeta and Andy Warhol. Of all the City's trendy lodgings, the Phoenix is still the favorite place for deviant minds to meet. Rock stars and other eccentric celebrities flock to this inner-city motel next to the Backflip, an aquatic cocktail lounge and restaurant that is a scene in its own right.
The Phoenix is the supreme hot spot for rock stars and other nonconformist celebrities. Originally a kind of futuristic, sleek motel in the fifties, then a hooker hall in the seventies and eighties, it was bought in 1987 by Chip Conley, who managed to snag his first celebrity guest, Brenda Lee, when she stopped one day to ask for directions to another hotel. After that came Arlo Guthrie and a few others, and the celebrity guest register mushroomed. Sinead O'Connor, Wim Wenders, the Sex Pistols, Nirvana, the Red Hot Chili Peppers, M.C. Hammer, k.d. lang, R.E.M., John Waters, Dr. John, Etta James, River Phoenix, Keanu Reeves, Chubby Checker, David Bowie, Bonnie Raitt, Bo Diddley and the Cowboy Junkies are just a few of the stars who have lounged by the infamous mural-bottomed swimming pool in the Tenderloin. Offbeat stargazing doesn't get any better and the rooms start at $100, so reserve well in advance. -Frommers Irreverent Guide to San Francisco
---
Prescott Hotel
545 Post Street , San Francisco
415-563-0303
The bellmen in full wooden-soldier regalia outside the four-star Prescott Hotel in Union Square are your first clues that this is a scaled-down version of the Fairmont . your second clue is that the room rates are about the same, give or take a few dollars. But at the Prescott , you get more personalized service, and the penthouse suite only costs $1,200 a night (a fifth of the cost of the Fairmont 's penthouse.)
Going up the scale, the Prescott Hotel, also in Union Square, has a more opulent penthouse; Two fireplaces )including one in the bedroom), a baby grand piano, a state-of-the-art stereo system and a dining room that seats eight for a private dinner catered by Wolfgang Puck's Postrio restaurant. If you charged your seven guests $175 a piece you could cover the $1,200-a-night fee. Just a thought. -Frommers Irreverent Guide to San Francisco
---
Red Victorian Bed and Breakfast Inn
1665 Haight Street , San Francisco
415-864-1978
Owned and run by veteran flower child Sami Sunchild, the bed-and-breakfast is in the heart of the historic Haight-Ashbury neighborhood. Each of its 18 rooms is decorated with a different theme, ranging from the Summer of Love room and the Rainbow room to the Japanese Tea Garden room and the Teddy Bear room, replete with 50 or so stuffed bears. -Unofficial Guide to San Francisco
The Red Victorian Bed and Breakfast Inn in Haight-Ashbury , known affectionately as the Red Vic, is much more eccentric and much less expensive than the Archbishop's Mansion. It's right on Haight Street , and fits in perfectly, if that gives you a clue. Group meditation is offered every morning in the back of the lobby and owner /Sami Sunchild has left her artistic thumbprint all over the inn with poem-paintings that make you want to turn right out and stick a flower in your hair. Each room has its own theme, from a Persian-esque suite that looks like a good home for a hookah-smoking caterpillar to a quasi-psychedelic "LOVE" wall that certainly does not appear to be conducive to sleep. most rooms have shared baths; be ready for aquariums and other suppress when you go to wash your face. The Red Vic is fun, it's clean and it's definitely only in San Francisco . -Frommers Irreverent Guide to San Francisco
---
Ritz-Carlton
San Francisco
600 Stockton Street (at California ), San Francisco
415-296-7465
To the business traveler, happiness is a warm fax machine; ecstasy is one right there in your room. Guests at The Ritz-Carlton San Francisco will find just that along with a voicemail system in every room, a fully operational business center, complimentary transportation, and every other amenity a generous expense account can buy. -Frommers Irreverent Guide to San Francisco
---
San Francisco International Hotel
Building 240, Fort Mason , San Francisco
415-771-7277
For super cheap, dorm up at the San Francisco International Hotel at the edge of the posh bay front Marina District with close-up views of the Golden Gate Bridge. -Frommers Irreverent Guide to San Francisco
---
San Remo Hotel
2237 Mason Street (btw Chestnut/Francisco), San Francisco
415-776-8688
Europeans love the San Remo Hotel, a three story Italianate Victorian, hidden away on a quiet residential block of North Beach . Rooms start at $50 and the funky little rooftop cottage/penthouse with its own sundeck and panoramic view is one of the best deals in San Francisco at $150 a night.
You don't have to spend $6,000 a night at the Fairmont to stay in an enchanting penthouse. For $150 a night, you can have your own little cottage and sundeck at the San Remo Hotel in North Beach . True, it is perched on a tarpaper roof and is more like a goofy houseboat than a luxury apartment, but the location and the view are great. Unfortunately, this little gem is no longer a secret, so you may need to book a few months in advance. -Frommers Irreverent Guide to San Francisco
---
Sheraton
Palace
2 New Montgomery Street (at Market), San Francisco
415-512-1111
The Sheraton Palace Hotel - originally known as just the Palace - where only writers who had already become rich and famous, could afford to stay. Oscar Wilde stayed here when he was 27 years old and apparently drank the entire town under the table; Rudyard Kipling arrived a few years later, but was rejected by both the Chronicle and Ambrose Bierce's San Francisco Illustrated Wasp. The Sheraton Palace is still lavish and elegant, modern conveniences have been installed, but the furnishings are restored antiques that will make you wonder if any of Oscar Wilde's molecules could still be floating around in the upholstery somewhere. -Frommers Irreverent Guide to San Francisco
---
Stanford Inn by the Sea
Coast Highway and Comptche Ukiah Road , Mendocino
707-937-5615
If you have the time it's definitely worth driving to Mendocino, where a host of cozy seaside inns will soothe your spirit. Among the most unusual is Stanford Inn by the Sea, a working organic garden and farm on 10 acres between the Big River and the Pacific Ocean . A herd of animals, including 11 Llamas, roam near the garden, which supplies produce for the inn's innovative vegetarian restaurant. The rooms -- each wit a wood burning fireplace -- have all the amenities of a luxury hotel yet feel as snug as a family cabin. The inn's romance an comfort draw many celebrities looking for an escape; some, like San Francisco Giants' manager Dusty Baker are regulars and have become family friends of innkeepers Joan and Jeff Stanford. -Frommers Irreverent Guide to San Francisco
---
Stouffer
Renaissance
Stanford
Court
Hotel
905 California Street , San Francisco
415-989-3500
The Stouffer Renaissance Stanford Court Hotel , called simply Stanford Court by residents and taxi drivers, is a historic landmark up on Nob Hill that once housed the founder of Stanford University . Many San Franciscans consider this the ultimate landmark hotel, but some people find it a bit difficult to feel at home in a lobby with a stained-glass dome - church pews and a confessional wouldn't seem out of place. The antiques-filled rooms are more welcoming, but if they seem too stuffy, you can always head for the bathroom, where you can flick on the television, pick up the telephone and lather yourself into a froth with French-milled soap. -Frommers Irreverent Guide to San Francisco
---
Tea Garden Springs
38 Miller Avenue, Mill Valley
415-389-7123
Calm down a bit at Tea Garden Springs with a massage and herbal elixir. -Frommers Irreverent Guide to San Francisco
---
Union Street Inn
2229 Union Street , San Francisco
415-346-0424
Owners Jane Bertorelli and David Coyle have lent such a pleasant personal touch to the period decor, and the staff is so convivial, that the delightful bed-and-breakfast wins a prize for overall ambiance. Although the two-story Edwardian mansion is situated amid the bustle of trendy Union Street , it's set high above the traffic at the top of a steep set of stairs. The five large guest rooms and a deluxe carriage house across the garden have private baths (some feature Jacuzzis), king- or queen-size beds, telephones, terry-cloth robes, fresh cut flowers, and televisions (for those who can't survive the Edwardian era without one). Each room has its own theme and color scheme, enhanced by bay windows, patterned wallpaper, Oriental carpets, antiques, and comforters. The best rooms, such as the Wildrose, face the flourishing back garden. The parlor downstairs is furnished with a fireplace, a beguiling range of period finds and a 24-hour coffee/tea/buffet station. Start your day with a full breakfast in the beautiful English garden, in the parlor or in bed; spend the afternoon strolling through Union Street 's ever-popular boutiques, bars, and cafes, then return by for a pre dinner snack of wine and cheese. -Best Places San Francisco
---
Victorian Inn on the Park
301 Lyon Street , San Francisco
415-931-1830
The Victorian Inn on the Park is located at Lyon and Fell streets, just across the Panhandle from the house where Janis Joplin once lived. The inn, a registered historic landmark, is a restored Queen Anne Victorian that caters to a more subdued clientele than the Red Vic, though it too, had its heyday as a hippie crash pad. It's an outstanding example of Victorian architecture, and the antique furnishings are comfortable and elegant, despite signs of wear. -Frommers Irreverent Guide to San Francisco
---
Westin Saint Francis
335 Powell Street (on Union Square ), San Francisco
415-397-7000
The charm of the Westin Saint Francis in Union Square decreased considerably when the new tower was added on, but it still has a few merits. The front entrance used for the TV series "Hotel" remains magnificent, and stepping into the lobby will probably always make you feel like a million bucks (or at least like you might need a million bucks to stay there very long). Afternoon high tea (or a wee martini) in the Compass Rose is a civilized antidote to the shopping frenzy just outside the door.
The Westin Saint Francis' Kids Club is another program geared toward pleasing guests 12 and under. Members receive a sports bottle or sippy cup with complementary refills at the hotel's restaurant, along with free food from the kids menu, while parents request such necessities as strollers, cribs, bottle-warmers and stepstools. The Westin Saint Francis' glass-enclosed elevators add an amusement-park thrill to the whole experience. -Frommers Irreverent Guide to San Francisco
---
York Hotel
940 Sutter Street , San Francisco
415-885-6800
The York Hotel is neither a fancy landmark nor a charming North Beach haven, but it was home for a while to Ron Kovic, who wrote Born on the Forth of July and Around the World in Eight Days. While staying at the York , Kovic wrote eight novels in 38 days, according to Don Herron's The Literary World of San Francisco (City Lights Books). (It's also considered to be gay-friendly.)
The York Hotel is a must-see for Alfred Hitchcock fans: The stairway scene in Vertigo was shot here. -Frommers Irreverent Guide to San Francisco