Endless Vacation Magazine Showcases Hayes Valley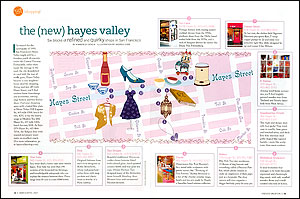 Click to view more detail.
Endless Vacation magazine is a national bi-monthly publication that is very popular with travelers.
Endless Vactions magazine highlights shopping districts in travel destinations around the world.
Here is an article that highlights a number of the great shops up and down the Hayes Valley shopping district. Not only is the area beautiful up and down Hayes Street but there are many eateries and coffee spots to enjoy while shopping.
About Hayes Valley...
Hayes Valley in San Francisco is a unique shopping district featuring: art and artifacts, bordeaux and beer, vintage wear and fresh dressings, resale and collectibles, cozy cafes and hip bars, souffles and sauerbraten, antique divans and modern chairs, fancy confections and cool housewares, handcrafted jewels and handmade frames. Located near the SF Symphony and Ballet, you can enjoy some culture while meeting friends for shopping or dining.