About Elmwood Shopping District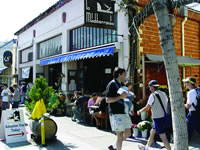 Elmwood Shopping District is located on College Avenue in Berkeley just a few blocks South of the university. Her at the corner of College and Ashby you will find a special shopping experience featuring fine gourmet food, outdoor cafes, and shops that feature unique clothing, jewelry, gift items and quality personal services from local merchants.
Have a coffee in an outdoor café, see a film at Elmwoods historic movie house, dine at your choice of fine ethnic restaurants or shop to your heart's content.