Sacramento Street Events
2015 EVENTS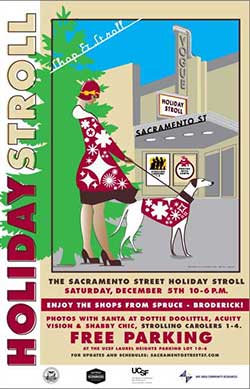 Sacramento Street Holiday Stroll
Saturday, December 5, 2015
Stores Open 10am to 6pm

3000 to 3695 Sacramento Street

Photos with Santa
11-3 Dottie Doolittle Children's Boutique
3680 Sacramento Street
$30 with proceeds going to Raphael House
10-1 Acuity Vision
3610 Sacramento Street
1-4 Pink Santa at Rachel Ashwell's Shabby Chic
3095 Sacramento Street
Free Music Performances
1-4 pm Strolling Carolers will visit stores
1-3 Performance by Marcos Silva Quartet (Latin Jazz)
Vorres Gallery3671 Sacramento Street
2-4 Beat Boxing Cello Joe
Poetica Art & Antiques 3461 Sacramento Street
2-4 Gaucho - A Django Reindhardt-Inspired Gypsy Jazz Band
Elu by Christina Nicoletti 3091 Sacramento Street
3-5 Yuletide Repair Kit
Thos. Moser Furniture 3395 Sacramento Street

FREE PARKING - UCSF Laurel Heights Parking Lot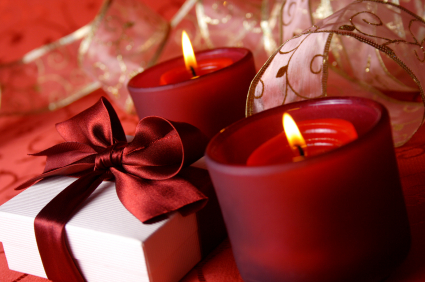 Taste & Toast
Please join Baboo in celebrating their 2nd anniversary and the upcoming holidays.
Wednesday, December 9, 2015 | 5pm to 9pm

PAST EVENTS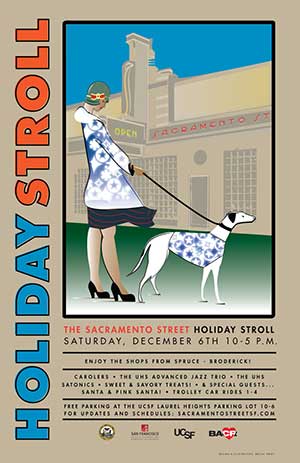 Holiday Stroll on Sacramento Street 2014
Saturday, December 6, 2014 | 10am to 5pm
Enjoy Holiday Shopping on Sacramento Street from Brodrick to Spruce Streets
10am to 2pm | Visit Santa at Select Locations
1pm to 4pm | Strolling Dickens-Style Carolers & Musical Entertainment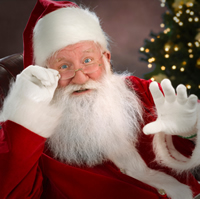 Free Photos with Santa in Presidio Heights!
Saturday, December 6, 2014 | 10am to 1pm
Acuity Vision Optometry Boutique | 3610A Sacramento Street
Mark your calendars for our annual holiday Santa visit at Acuity!
Dress up and come out for professional-quality photos with Santa.
Holiday refreshments will be served and goodie bags will be passed out to the first 30 children on Santa's Nice List.
This is a very popular event, so arrive early before Santa has to hop on his sleigh back to the North Pole!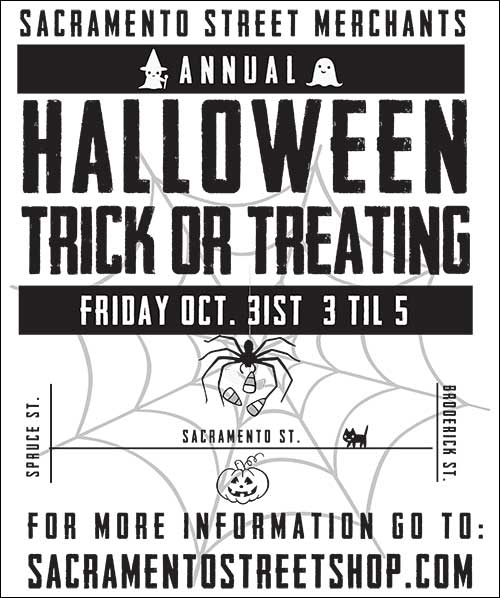 ANNUAL HALLOWEEN TRICK OR TREATING
Friday, October 31, 2014 | 3pm to 5pm
Trick or Treat Sacramento Street
Come join in the Halloween fun on Sacramento Street!
Treat yourselves to shopping while your little goblins collect goodies from the merchants of Sacramento Street!

10-Year Anniversary & Prodesign Trunk Show
Saturday, October 18, 2014 | 9:30 to 3:30
Acuity Vision | 3610 Sacramento Street
Acuity Vision will be celebrating their 10-year anniversary!
Shop for stylish frames and sunglasses from Prodesign's entire Fall Trunk Show collection and take 30% off*!
Enjoy refreshments & various treats, and celebrate with Dr. Schmidt and her team!

Optometry Giving Bake Sale
Saturday, October 11, 2014 | 10am to 1pm
Acuity Vision | 3610 Sacramento Street
Please come by Acuity Vision to purchase the tasty baked goods prepared by Dr. Schmidt and her daughter, Nina, and help support the Giving Sight cause.
To date Optometry Giving Sight has funded 67 projects in 38 countries. For more information, go to Giving Site, a non-profit, dedicated to helping those site challenged around the world.

Fanny the Flying French Bulldog
Thursday, May 22, 2014 - Poetica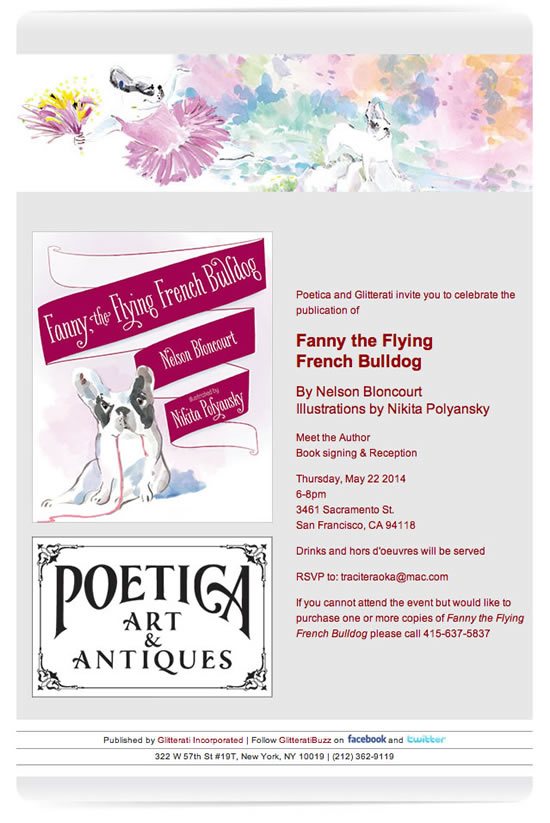 The Outdoor Market
Saturday, May 17, 2014 - 10am to 6pm- On Sacramento Street from Broderick to Spruce Streets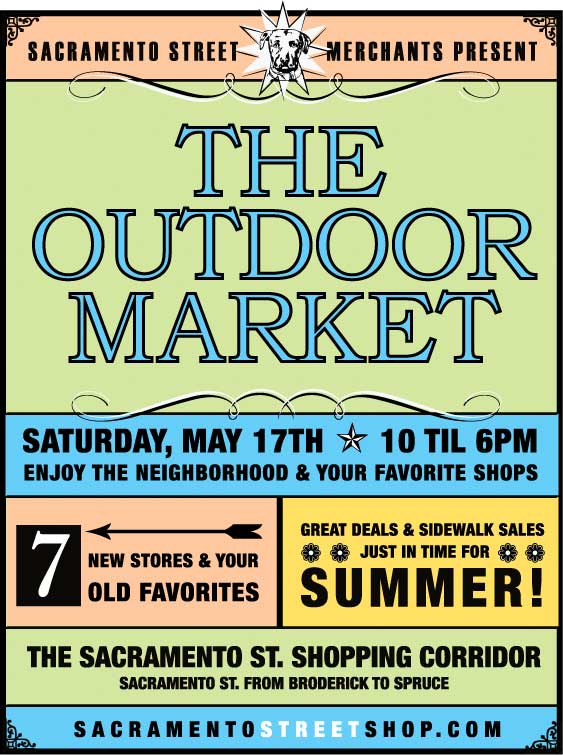 Music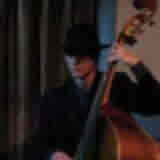 The Ollie Dudek Jazz Trio – Ollie Dudek on Bass, Henry Hung on Trumpet, and Jordan Daniels on Guitar 12-4 pm
Location: Elu (Sue Fisher King's block)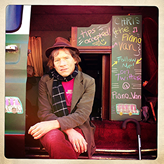 "Piano Van" Chris Stroffalino
Eats
El Tonayense Taco Truck (Sacramento Street between Laurel and Walnut Streets)
11: 30 - 1:30 pm
Smokin Warehouse BBQ Food Truck (parked in front of Eunice's)
11:30 -1:30
Free Popcorn at Bath Sense - all day!
Garibaldi's Lamb Tenderloin and Veggie Bites- at Poetica
4:00 - 6:00
Organic Baby Foodat Music Together
Lemonade and Sparkling Water - Refreshing beverages along the street: Thomas Moser, Serena and Lily
Sweets- Rose's Gift Gallery
Entertainment
Robert Strong, Strolling Magician and Comicfrom 2 - 4pm
Kids Face Painting- Bath Sense
Balloonsand more - Dottie Doolittle
SALES
ANTHEM, Sue Fisher King, Hudson Grace, Buttondown, Goodbyes, Rose's, PREP, Poetica, The Designer Consigner and others.
Trunk Shows- Luna Boutique, Poetica
Over 7 New Stores! Treats and fun for You and your Family!
Free parking at UCSF!California Street at Walnut Street


Cordially invites you and your guests to Visceral
Saturday, May 17, 2014 - 6pm to 8pm
A U.S. Premiere Exhibit of Photorealistic Paintings and Drawings by Carlos Gomez Mojica & Kamalky Laureano.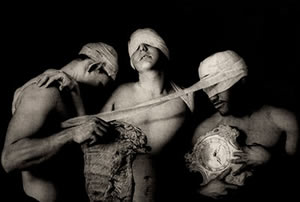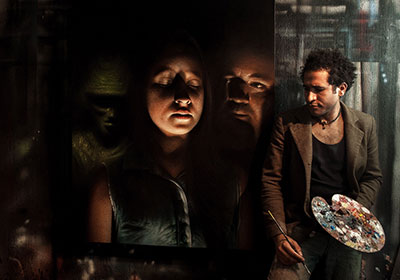 Admission is free

House Beautiful Shop America
Wednesday, March 26, 2014 - 5pm to 8pm- Betweeen Spruce/Broderick Streets on Sacramento Street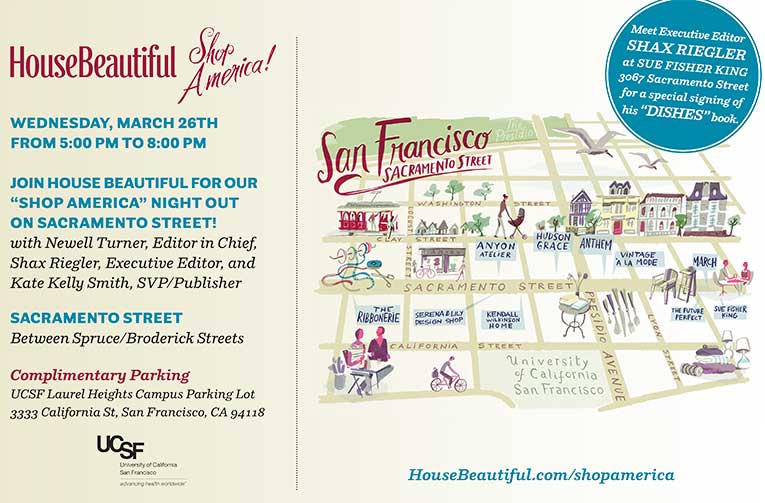 Sacramento Street
Holiday Stroll
WHEN:
Saturday, December 7, 2013 - 10am to 6pm

WHERE:
The Sacramento Street Shopping Corridor - Sacramento Street, from Broderick to Spruce Streets
Tasty Treats * Festive Decorations
Beautiful Gifts * Strolling Carolers
Plus, Special Guest - Santa!
Santa will be at Dottie Doolittle's Children's Boutique
11am to 3pm
Special Treats & Hot Cocoa - Acuity Vision - 11am-1pm
Comedy Magician, Robert Strong, will stroll & delight with magic tricks in the afternoon!
Merchants' Thank You Gift - Show your receipt for a free Kara's cupcake at Kara Van on Sacramento Street
Marilyn Jaeger Spa will be offering mini chair massages
AtbSacramento & Walnut Streets
Free Cotton Candy at BathSense

Shabby Chic Couture is hosting a Bauble Party, a h
Holiday ornament decorating party. RSVP to scsf@shabbychic.com*
AtbSacramento & Baker Sreets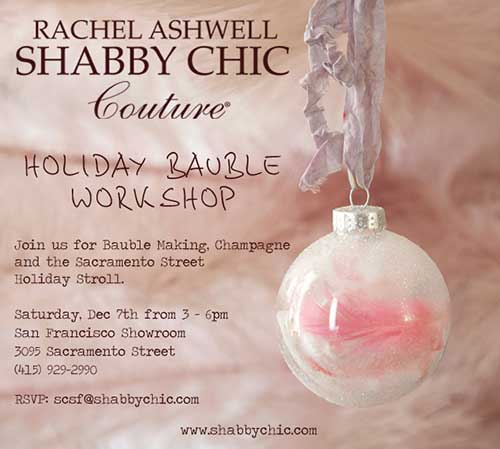 PARTICIPATING STORES
Gifts & Holiday
Anthem
Anyon
Beautiful Orchids
Glassybaby
Hudson Grace
Kendall Wilkinson Home
March
Poetica Art and Antiques
Rose's Gift Gallery
Sue Fisher King
The Ark Toy Store
The Ribbonerie
Twiga
V Vorres Gallery
SF Women Artist's Gallery

Fashion
Betty lin
Buttondown
Designer Consigner
The Grocery Store
Goodbyes
Henry Beguelin
Mom's the Word
Susan
The Runner's Mind - running essentials
For the kids
Dottie Doolittle clothing, jewelry, accessories
The Right Start - all the necessities for baby and toddler
Brooks Shoes
Brunch/Lunch
Osteria
Spruce
Sociale
The Magic Flute
Garibaldi's will have great bites at Poetica
La Toyanense Taco Truck

THE OUTDOOR MARKET

WHEN: Saturday May 18, 2013 - 10 ⁄AM to 6 PM
WHERE:The Sacramento Street Shopping Corridor - Sacramento Street, from Broderick to Spruce Streets
View Block by Block Festivities - Visit your favorite shops for a day of sidewalk sales - Fashion, Home and Garden!
Entertainment & Special Events
12pm to 2pm
- Acoustic Bistroat Osteria Cocina. Featuring a delicious and family friendly homemade lasagna buffet for lunch.
- El Tonayense Taco Truck will be available
1pm to 2pm
Kif Benderat PREP( tween haircuts) Super 13 year old singer and guitarist will play acoustic set.
1pm to 5pm
- A Jazz Triofeaturing Carl Hedder on bass. accompanied with piano and sax will be at Henry Bequelin.
- Sue Fisher King's block will be rocking sales, live music + tasty treats!
2pm to 4pm
Oliver from Twister entertainmentwill do whimsical children's face painting and balloon critters at Dottie Doolittle. Wine tasting.
3pm to 5pm
Gaucho(Django-style gypsy jazz) will perform at Poetica Art and Antiques on the Goodbyes' block - Buttondown, Anyon (new), Kendall Wilkinson home, BOGA rugs, Monique Arnon, Rose's Gift Gallery and the SF Women's Artist Gallery.
ALL DAY
Good Life Juicerywill have a pop-up stand outside of Skin Remedy on the sidewalk, beginning at 10am, where there will be FREE samples of our their hand-crafted, cold-pressed juices using only the freshest and tastiest local ingredients. See how delicious kale can taste in a juice!
MAGICIAN & MIME
Magician Robert Strong and French inspired mime - Desmond Ellington will stroll the corridor to delight and entertain.
FREE PARKINGat UCSF- Laurel Heights parking lot located at California Steer and Walnut Street.
View the List ...
For more info, contact Traci. | or Download the poster.

---
Sacramento Street Holiday Stroll
Saturday, December 8, 2012 - 10am to 6pm
Santa Claus - 10am to 1pm
Enjoy a beautiful stroll in this charming S.F. neighborhood filled with distinctive local businesses and restaurants.
Merchants will have treats and gift ideas to share with you and Santa will be waiting to hear what's on your list this year.
You can find Santa Claus at Acuity Vision 10-1. 3610 Sacramento St.
The stroll covers the blocks between 3000-3600 Sacramento St.