Mastering French Macarons
June 25 @ 12:00 pm - 1:00 pm | Free ~ RSVP Required
Location: Plated Showroom Two Embarcadero Center (next to L'Occitane), San Francisco, 94111
Learn how to make macarons at home with the Owner of Sweet Burger. First 40 guests will receive a free sample!


Plated with Chef Elizabeth Falkner
June 21 @ 11:00 am - 12:00 pm | Free ~ RSVP Required
Location: Plated Showroom Two Embarcadero Center (next to L'Occitane), San Francisco, 94111
Enjoy an intimate chef interview and cooking demonstration with Chef Elizabeth Falkner, featuring Farmer's Market fresh items, complete with recipes for everyone to enjoy at home.
Our Saturday morning series of free, fun and fabulous chef events will be hosted by Liam Mayclem, KCBS' Foodie Chap. Tastes will be provided for the first 100 guests.
Parking validation* available upon request. Click here to RSVP!
*Must park in an Embarcadero Center garage in order to receive validation.


Weddings Unveiled
Sunday, September 14, 2014 - 11am to 2pm
Location: Urban Patio @ Three Embarcadero Center - 146 Sacramento Street, San Franisco
Weddings Unveiled is a free event that brings the best in the business to Embarcadero Center. A beautiful setting filled with wedding inspiration to help you create your perfect day! Think of it as a one stop wedding shop, where you'll browse hundreds of options and meet and greet the wedding experts. Check out invitations, music, cakes, caterers, flowers, favors, photographers, stylish wedding attire, honeymoon destinations, beauty and fashion for all your wedding events and so much more!
Embarcadero Center makes it easy and fun to get the How To, on the To Do, before you say I Do!

PAST EVENTS

Are you down with UPP?
Embarcadero Center - Embarcadero 2 & 3
Thursday, September 26, 2013 - 4:30pm to 8:00pm
Embarcadero Center's Urban Patio (UP) renovations are finally complete and it's time to celebrate! Festivities will include live music, flat screen game viewing, food vendors,  beer/beverage gardens and more! Join the fun, experience the excitement first hand, and see what's "UP" at Embarcadero Center on Thursday, September 26th from 4:30-8:00pm.
Don't want to miss the 49ers' game? Not to worry, we will have flat screen TVs setup in Two Embarcadero Center for your viewing pleasure!

For some upbeat jazz tunes, be sure to check out Josh Klipp & The Klipptones in Three Embarcadero Center!
*This is a FREE-TO-THE-PUBLIC event, so tell your friends!*
**NO RSVP NECESSARY**
---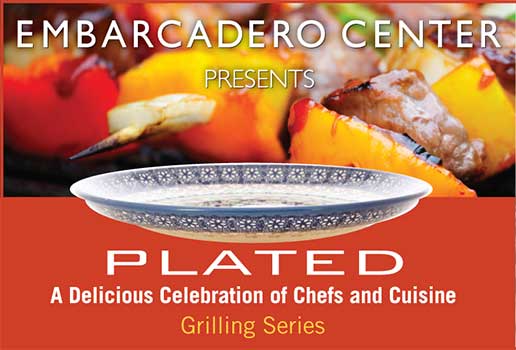 Plated with Big Jim -Barbecue
Embarcadero 2 - Street Level - Urban Patios
September 28, 2013 - 11:00am

Plated with Chef Russell Jackson
Embarcadero 2 - Street Level - Urban Patios

Tastes will be provided for the first 100 guests. The food lover events will be held at the new Urban Patios in Two Embarcadero Center, Street Level at 11:00AM on Saturdays. Visit embarcaderocenter.com to see the lineup of the latest Plated Series and reserve your space now!
This Plated Grilling Series event will take place on Saturday, September 28th, and will feature none other than BBQ Pit Masters 2013, Big Jim BBQ!
A donation will be made to La Cocina on the Chef's behalf. In lieu of paying a fee to attend this event, we encourage all guests to make a donation to La Cocina as well.

---
Fall Fest 2013
Saturday, October 12, 2013 - Noon to 4pm
Leading Restaurants • Local Winemakers • Epicurean Artisans • Extraordinary Chefs • Mixologists • Live Music • and More...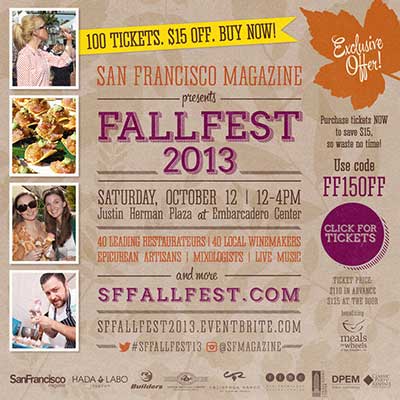 San Francisco magazine presents FallFest 2013, a celebration of the Bay Area's local and sustainable markets. Leading restaurateurs, winemakers, mixologists, and epicurean artisans join together for an inspiring day of premier wine and food tasting, chef demonstrations, cocktail competitions, and panel discussions, highlighting our greatest local purveyors. It all takes place outdoors at Justin Herman Plaza, which is transformed for the day into a European-style marketplace, taking full advantage of the season's gorgeous weather and the waterfront's beautiful views. Come feast, drink and celebrate!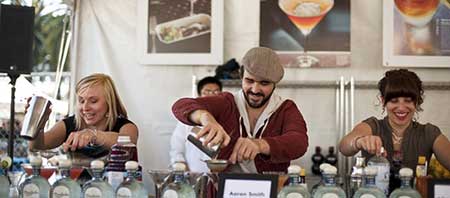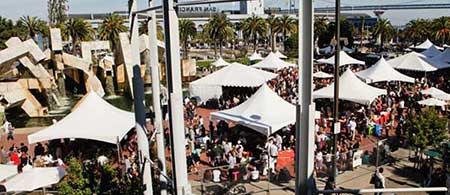 ---

Embarcadero Center Holiday Ice Rink
November 6, 2013 to January 5, 2014
Embarcadero Center, San Francisco
Justin Herman Plaza, adjacent to Four Embarcadero Center and across from the historic Ferry Building.
Delighting families, couples and ice-skating enthusiasts for over twenty-five years, the Holiday Ice Rink at Embarcadero Center presented by Hawaiian Airlines opens each winter for nine magical, fun-filled weeks. Get ready to skate under the sun and stars along the beautiful waterfront at the largest outdoor rink in San Francisco.
This year's skating kicks off on November 6, 2013 and continues through January 5, 2014.
Open 10:00 a.m. – 9:30 pm, Sunday-Thursday
Open 10:00 a.m. – 11:30 pm, Friday and Saturday
90-minute sessions start at every even hour.
Private Booking is Available. (Sessions are not open to public if sold to a private party.)
The Rink may be closed due to inclement weather or private-party bookings. For the most current information, call (415) 772-0753.
Admission
Adults: $10
Children ages 7 and under: $6.00
Skate Rentals
$4
Please call the Ice Rink Manager at 415.772.0753 for the most current information.
E-mail: echolidayrink@gmail.com
More information and Photos...
---
Free Holiday Parking
Promotion ends: 12/24/12
During the holidays, park for FREE, when you shop & skate at EC!*
*Valid dates: Friday, November 16, 2012 until 11:59 PM on Monday, December 24, 2012.
Valid times: After 5:00 PM Monday through Friday and after 10:00 AM Saturday and Sunday.
Offer not valid at businesses or restaurants that already offer their own validation. Sticker must be affixed to parking ticket to be valid. Please visit https://embarcaderocenter.com/location/parking/ for a full list of businesses that currently validate parking.
---
Winter Carnival & Embarcadero Center Building Lighting
November 22, 2013
Each year, the weekend before Thanksgiving, marks the annual Embarcadero Center Building Lighting. Once the sun sets, the countdown to the official lighting leads up to the illumination of One, Two, Three and Four Embarcadero Center, followed by a grand fireworks display.
On the same evening each year, they proudly present their Winter Carnival event. The festivities include children's activities, entertainment, visits with Santa and a very special appearance by Mickey Mouse. Plus, live performances by the Disney on Ice performers! This winter, come take in a San Francisco holiday tradition at Embarcadero Center.
Free Holiday Parking!
To make your shopping even more convenient, enjoy four hours of free parking during the holidays.