Map of Chicago Shopping Districts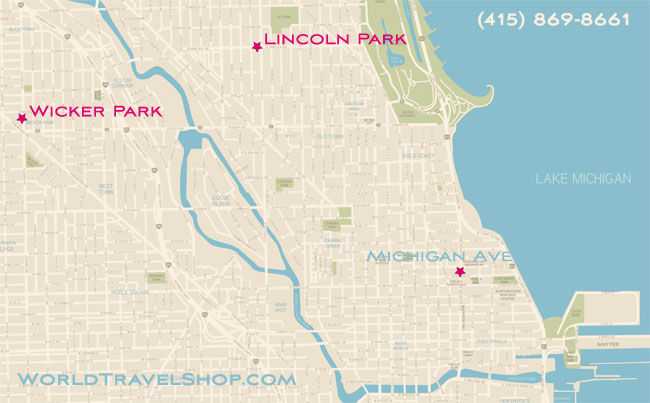 Lincoln Park - Armitage & Halsted
Running along Halsted and Armitage in a backwards "L" shape, this is a quaint, upscale shopping district with a bit of a neighborhood vibe mixed in. There are some very chic shops mixed in with some shops serving the neighborhood along with great eateries and drinking establishments.
Michigan Avenue - The Magnificent Mile
The roughly mile-long stretch of North Michigan Avenue between Oak Street and the Chicago River is home to just about every upscale name brand you can think of as well as a large mixture of more plebeian favorites. This area is beautifully manicured and everything is blooming in the warmer months. For those cold winter months The Magnificent Mile boasts five department stores and 3 indoor shopping centers. 900 North Michigan Shops, The Shops at North Bridge and Water
Tower Place make up the shopping centers and the department stores include Bloomingdale's, Macy's, Neiman Marcus, Nordstrom and Saks Fifth Avenue.
Wicker Park - Bucktown
Where upscale trend meets chic grunge with a strong neighborhood flavor, Wicker Park - Bucktown has an artistic flare and a bohemian spirit. The mix of neighborhood businesses with fashionable upscale shops - all carrying a similar gritty aesthetic brings a certain cohesion to this shopping district. Begin at the Damen El stop on the Blue Line, and walk north along Damen to Armitage Avenue to scope out the trendiest shops. If you've got time, some shops are also scattered along Milwaukee Avenue south of North Avenue.
View Enlarged PDF MAP
Click to View an Enlarged PDF Map
Print PDF Map of Chicago Shopping Districts
Click to Print a PDF Map