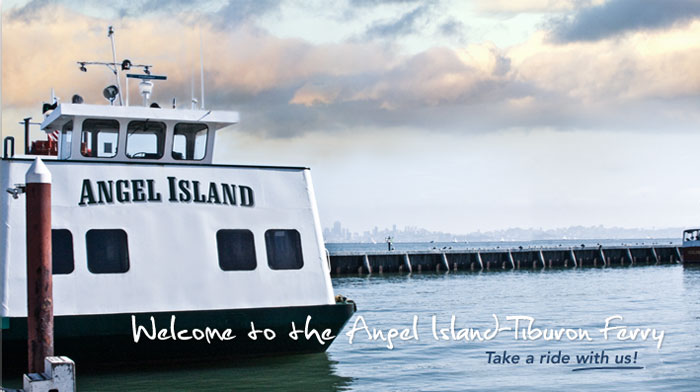 ANGEL ISLAND FERRY
Family owned and operated since 1959, the Angel Island - Tiburon Ferry Company has a rich local history. The Angel Island - Tiburon Ferry is the way you get to Angel Island from Tiburon.
SCHEDULE for Angel Island
TICKETS & FARES for Angel Island
It would be hard to find a more beautiful place than Angel Island to ride you bicycle around. The size of the island and the incredible views are what particularly add to the appeal. If you are really full of energy, you could get on your bike in San Francisco and ride right over the Golden Gate Bridge, through Sausalito onto the Tiburon bike path and over to Angel Island for the day! This is an ambitious venture - be sure to map it all out before you leave and check the schedules. Enjoy!
BICYCLE POLICY for the Angel Island Ferry
Things to Do on Angel Island & Angel Island's History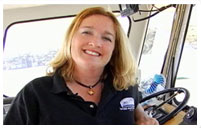 Captain Maggie McDonogh is the owner and fourth generation captain of the Angel Island - Tiburon Ferry, and President and Chairman of the Board for the Angel Island Ferry Company now celebrating 50 years serving the community on the San Francisco Bay.
Captain Maggie's Travel Blog
Subscribe to Captain Maggie's San Francisco Travel Blog to get great ideas on day trips, bay trips, and San Francisco Bay getaways.
"This is Captain Maggie inviting you to come and take a ride with us!
"From scenic weekend Sunset Cruises, to casual entertaining with our private charters, to discovering all the great activities you can get into on Angel Island -- I write about the latest on how you can 'Get that Getaway feeling without going away when you take a ride on the Angel Island Tiburon Ferry."
Visit Captain Maggie's Blog at www.CaptainMaggie.com >