Washington Square in North Beach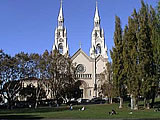 Of all the San Francisco districts, North Beach seems to be the most lively, brimming with laughter from the friends gathering and enjoying the cornucopia of Italian restaurants and cafes or sharing a cappuccino.
Washington Square Park is a glorious park on a sunny day, spread out before Sts. Peter & Paul Church. Marilyn Monroe and Joe Di Maggio came to the steps of this famous church to take family photographs after their marriage at San Francisco City Hall.