Union Street - Yesterday & Today
HISTORIC COW HOLLOW
Union Street Yesterday - The Spirit of Today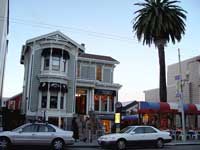 San Francisco's fascinating history provides the setting for the rich architectural flavor of the Union Street area. In 1776 when San Francisco's first settlement was established on the Presidio, Cow Hollow was filled with freshwater springs, grassy meadows and sand hills inhabited by wildlife. It was not until the mid-1800s that settlers came to the area, then known as Spring Valley, and soon began farming around a large lagoon. It wasn't long before dairy farming became the predominant activity; hence the name Cow Hollow, which has survived to the present. Union Street follows the unpaved road which once linked the developing city with the Presidio.
As San Francisco rapidly expanded during the Gold Rush, the area continued to prosper and to become more fashionable. Prominent San Franciscans settled here and erected impressive mansions in the 1860s and 1870s, built in the ornate Victorian style.
Among the most famous houses were the mansions built by Frank Pixley, editor of The Argonaut, at Union and Pierce, Mayor Ephraim Burr¹s house at Filbert and Van Ness, and William McElroy's Octagon House at Gough and Union. In the center of present day Union Street at 2040 Union stands the farmhouse built by dairy rancher James Cudworth, and the two identical Victorian houses at 1980 Union, which he erected as wedding presents for his two daughters.
The area was developing so rapidly that in 1891 all livestock were ordered out of Cow Hollow, and the lagoon was filled in to make way for houses. Cow Hollow became a residential area with the fanciful Victorian mansions giving way to the distinguished, yet comparatively more austere, Edwardian style of architecture.
Fortunately, Cow Hollow sustained little damage in the earthquake and subsequent fire of 1906, and the beautiful, original architecture of the area can still be seen and admired today.
UION STREET TODAY
Victorian in Setting - The Charm of Yesterday
When San Franciscans are out for a day of shopping and dining, they are often to be found uptown, enjoying the relaxed atmosphere of Union Street, San Francisco's most charming street, where buildings have been preserved much as they were at the turn of the century.
UNIQUE STORES Encompass a seven block area from Van Ness to Steiner and down Fillmore to Lombard. Union Street is the "main street" of San Francisco's historic Cow Hollow district and is renowned for its beautifully preserved Victorians and Edwardian's which house bed and breakfast inns, art galleries, antique stores, specialty shops and fine restaurants. Located between two of San Francisco's most fashionable neighborhoods - Pacific Heights and the Marina - Union Street offers all the charm and service of an old-fashioned shopping street where you can find virtually anything you need within walking distance.
All along Union, around the corner on to Fillmore, and spilling into the side streets, small bakeries and coffee houses, fashionable boutiques and delightful garden cafes attract your attention. Many of San Francisco's finest stores and restaurants are nestled in quaint and colorful courtyards making strolling and browsing on Union Street a delightful adventure.
EASY TO FIND Union Street is within a short walk from the hotels and motels located on and around Van Ness and Lombard streets, and can easily be reached from downtown by taxi or bus lines #41 and #45. Delightful by day and lively by night - Union Street is sure to capture your heart.