OCTAGON HOUSE - 2645 Gough Street at Union

History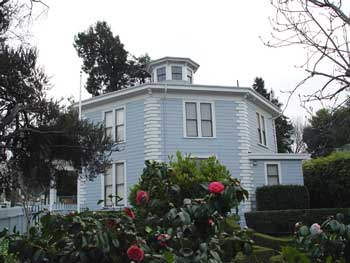 One of five such houses in early San Francisco, this octagonal house was built by William C. McElroy in 1861. Mr. McElroy's letter, "To Future Ages," and newspapers accompanying it, which were discovered in a tin box under the stairs during restoration, are displayed in Octagon House.
In 1951, when The National Society of The Colonial Dames of America in California acquired Octagon House, it was across Gough Street from its present location. Vacant for many years, it was in a state of disrepair and fortunately the Society's offer to its owner to move and restore it was accepted.
Funds were raised and Octagon House was moved to its present site, property donated to the Society by two members, the Misses Edith Winslow and Lucy Helen Allyne. The late Warren C. Perry, F.A.I.A., former Head of the Department of Architecture at the university of California, directed restoration. The cornerstone was laid on April 7, 1953.
In 1968 Octagon House was designated an Historical Landmark by the City of San Francisco, and in 1972 it was placed in the National Register of Historic Places. In 1993 its garden received a special award from San Francisco Beautiful.
Collections
The collections on display at Octagon House represent decorative arts of the Colonial and Federal periods. Included are examples of American furniture, portraits, samplers and looking glasses; English and American silver; American pewter; English and Chinese ceramics; and Oriental rugs.
Also on view is a collection of documents pertaining to Colonial and Early American history. Signatures of 54 of the 56 Signers of the Declaration of Independence are on display.
Collections have been established through gifts, bequests and purchase. Portions of the collection were on loan display at the de Young Memorial Museum prior to the Society's acquisition of Octagon House.
Visitor Information
Octagon House is open to the public on the second Sunday and the second and fourth Thursdays of each month except January and is closed on holidays.
Visiting Hours are from Noon to 3:00 PM. The last admission is at 2:45 PM.
A contribution toward maintenance of Octagon House will be appreciated.
Group Tours are by special arrangement only and cannot be admitted on regular open house afternoons. Inquiries should be addressed to:
Group Tour Director
Octagon House
2645 Gough Street
San Francisco, CA 94123-4402
Telephone: (415) 441-7412